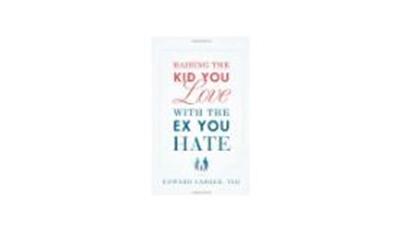 Just finished a great book – Raising the Kid You Love with the Ex You Hate
Edward Farber, PhD is releasing his new book Raising the Kid You Love with the Ex You Hate next week. I was lucky enough to receive an Advance Reviewer's Copy and I do mean lucky.
Ed's book is full of fabulous advice about how to make the business of co-parenting work after the business of marriage has failed. The basis of his advice about successful co-parenting hinges on these three principles:
Your child needs both parents
Reduce parental conflict after the separation
Both parents make decisions
Parents who can agree to abide by these three principles will have a headstart in helping their children be happy, healthy adults. To be implemented well, each parent needs to be consistently focused on them and communicate regularly with their ex to make sure they're on the same page. Continuing to interact with your ex after divorce may not be something you look forward to, but, as Dr Farber points out, it's necessary to being able to raise the kid you love.
I really appreciated reading this no non-sense approach to making co-parenting work along with the real-life stories from Ed's practice, but probably the best part of this book is the fact that he shares ideas for non-ideal co-parenting situations. He offers suggestions for dealing with an ex who is more interested in revenge than in successfully co-parenting, for how the co-parenting arrangement will naturally need to change as your kid grows older, for dealing with an ex who has emotional, psychological or addictive disorders, and even for dealing with kids who may be embellishing the truth to get into your good graces.
This book is an ideal resource for parents who are divorced or divorcing and committed to continuing to be great parents.
You can check out the book at Raising the Kid You Love with the Ex You Hate.
I'm Dr. Karen Finn, a divorce coach and advisor helping people just like you who are dealing with the stress and pain of divorce. You can join my newsletter list for free weekly advice. If you're interested in taking the first step toward working with me, you can schedule an introductory private coaching session.
If you're looking for more help on how to navigate the challenges of your life now, read more articles on Life After Divorce.