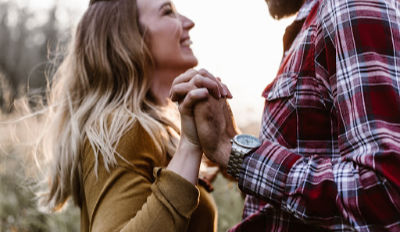 The 8 Keys To Trust In A Post-Divorce Relationship – Part 2
Divorce can shake a person's ability to trust someone else to the core. Yet, in order for any relationship to thrive, trust is a necessity. In this Part 2 of The 8 Keys to Trust in a Post-Divorce Relationship, I'll share keys 5-8 on what characteristics must be present for a deep and abiding trust in another person to exist.
As a quick reminder, the first 4 keys were clarity, compassion, character and competency. (You can read the detailed discussion about these keys here.)
The last 4 keys to trust in a post-divorce relationship are
5. Contribution – What's important about contribution in a relationship is recognizing how you each contribute to the richness of each other's lives. The contribution should be overall positive, yet not necessarily positive all the time. The rough patches are where growth can occur and the opportunity for growth is where you can begin to evaluate the presence of the next key – commitment.
6. Commitment – Commitment is more than just a declaration. The kind of commitment that makes relationships work is action-based. It takes action to display commitment – a willingness on both parts to roll-up your sleeves and do what needs to be done to maintain the relationship if that's what's in each of your best interests.
7. Connection – Connection is all about relating to each other. It requires being able to communicate clearly with each other. It's also the unspoken communication that develops that sense about what each other is thinking or needing.
8. Consistency – Dictionary.com gives some great definitions of consistency that are all necessary to developing and maintaining trust in a relationship. Consistency is about agreement, harmony, or compatibility. It also refers to the condition of cohering or holding together and retaining form. All of these are necessary to build trust in a relationship. There must be a consistent agreement to maintain the relationship and there needs to be compatibility and harmony so it can thrive in an environment of trust.
When you take a look at this week's keys and the ones from last week, there's quite a bit that goes into building trust in a relationship. Isn't there?
It's funny how sometimes looking ahead at what you want in a relationship can sometimes cause us to do a little examination of past relationships and look at them in a different way. If this has happened for you, then you've got a really great indication of what you might need to make sure happens in your next relationship to be able to again place your trust in a relationship.
Your Functional Divorce Assignment:
Get clear about what you want in your post-divorce relationships. Yes, this is the same first step as in last week's Your Functional Divorce Assignment, but my guess is that after learning what the rest of the keys are you might want to adjust your idea of what you want in your post-divorce relationships just a bit.
How might you determine if you and the other person are contributing positively to each other? What positive contributions would you like the other person to make to your life? What contributions are they willing to make to your life? How do these answers match?
What are the contributions they want you to make to their life? What positive contributions are you willing to make in their life? How do these answers match?
It's important that the answers be fairly similar in order for the contribution key to be present in your post-divorce relationship.
What kind of consistency is present in your relationship? Do you both have the same vision and interpretation of the relationship? Without the same vision, there's no way there can be consistency within the relationship. That's why I believe it's important to check in periodically and make sure you're both in the same relationship.
I'm Dr. Karen Finn, a divorce coach and advisor helping people just like you who are dealing with the stress and pain of divorce. You can join my newsletter list for free weekly advice. If you're ready to take the first step toward working with me as your personal coach, you can schedule an introductory private coaching session.
© 2013 Karen Finn. All rights reserved under all copyright conventions.