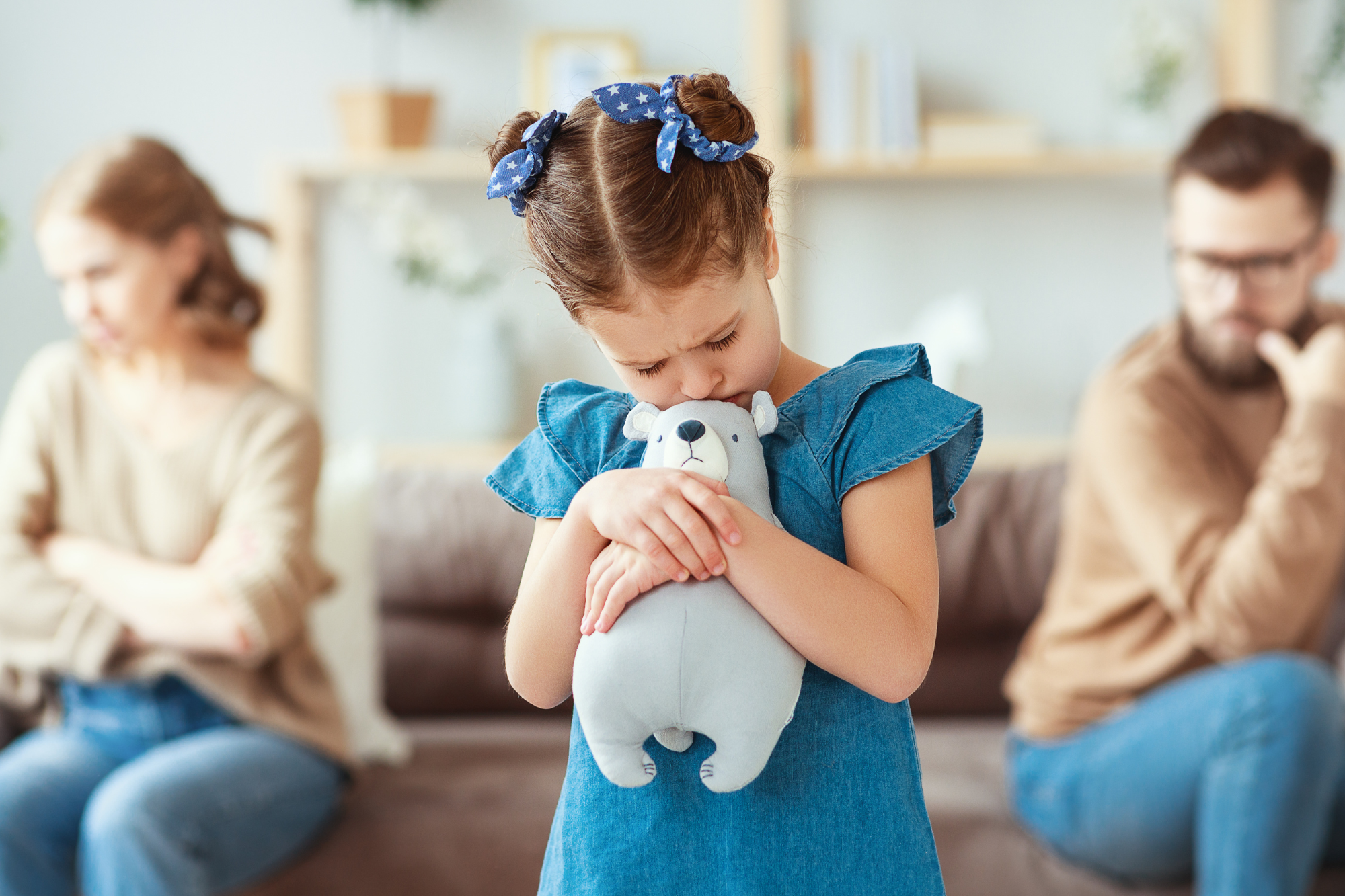 Use these tips to determine if breaking up your family is the right answer.
Wondering if you need to leave your marriage is torturous.
Questions swirl in your mind and intrude in your day as you wrestle with the decision. Would I be better off without her? Can we afford to get divorced? Could I find happiness (or at least satisfaction) with another woman? And then the one that haunts you the most is How will divorce affect the kids?
Divorcing your wife is one thing. She's an adult. She has the ability to take care of herself and move on with her life.
But divorcing the mother of your children is another thing entirely. Because you know ending your marriage to their mother will impact your children for the rest of their lives AND you know it will change your relationship with them forever.
You've done some research and virtually every reputable source you can find says that divorce negatively impacts children. So maybe you should stick it out until they're grown. Give them the gift of being a man and toughing it out so they'll have the solid foundation of an intact family.
But what if the example you set for them by staying is one of being miserably married? Is that really showing them what it means to be a man? Absolutely not.
I know you want your kids to grow into strong, healthy, happy, contributing men and women. You want each of them to have loving and long-lasting relationships or marriages with a partner who adores them and both challenges and supports them to be their best.
Staying in a horrible situation where you feel imprisoned isn't going to help your children become those people. You want more for them and you deserve more too.
So how do you decide if you should stay or go? The way I see it, you have 3 options. You could give in and just suffer through with the status quo at least until the kids are grown. You could give up and choose to divorce today. You could also give your marriage everything you've got so you'll know beyond a shadow of a doubt what your decision must be.
If you choose the third option, it's time to roll up your sleeves and get serious about doing the work necessary to make this decision in a way you can live with for the rest of your life.
Here are the 9 ways to work on your marriage so you can feel confident you'll make the right decision for both you and your family.
Talk with a man (or, even better, several men) who's made his marriage work for the long-haul.Be curious and interview him about how he did it. Why did he stay with his wife? How does he make it through the bad times? Once you start talking with him, you'll probably come up with more questions based on what he's telling you.

How you can use this information to make your marriage better? As soon as you know the answer(s) to this question, start doing what you need to do.

But, you might also discover that you've already done everything recommended. If that's the case for you, it's time for the next tactic.

Talk with a woman (or several) who's made her marriage work for the long-haul.Be curious and ask her about the challenges she's had over the years being married to her husband. Why did she stay with him? What does he give or share with her that makes their marriage work for her?

You can use this information in a couple of different ways. First, you can open up a frank discussion with your wife about what you've learned and get her take on it. Second, it might give you some ideas of how you can make adjustments so your marriage can improve.

Go to counseling together.Going to counseling is rarely at the top of a couple's list of fun things to do, but it can have tremendous benefits especially if you go before all hope is lost. Counseling works best when each spouse still has hope and is willing to work on the relationship. It's not easy, but it is worth it.
Read books and articles (basically anything you can find) on making marriage work.
Getting as much help as you can from experts will give you another perspective on what might help your union. But you can't just read the information, you have to implement it. And, no, it won't be easy, but your family deserves the effort. (You'll definitely want to check out the work of John Gottman.)
Read books and articles (again, basically anything you can find) on understanding women.A lot of the time, marriages struggle because of poor communication patterns that develop over time. We all start assuming we know our spouse and that they know us so we shouldn't have to tell them what's going on. We also assume that our spouse thinks like we do because they did when our love was new.

The problem is these assumptions destroy marriages and the friendships on which they're based.

Men and women are different. So get curious about how women in general think and then about how your wife thinks and experiences the world. When you're genuinely curious you'll bring much less old baggage with you into your conversations with her and you might just find that your conversations are better. (You may want to start with the classic Men Are From Mars, Women Are From Venus.)

Talk with a single dad (or several).Get his perspective on divorce and what life as a single dad is really like. You might be surprised by what he has to say.
Talk with a single mom (or several) whose husband left her.Her perspective may give you insight into what your wife will go through should you ultimately decide divorce is the best course.
Get individual counseling.Talking with a helping professional (therapist, coach, religious leader, etc.) takes courage. You're choosing vulnerability with the goal of exploring every option possible so you can feel confident in making the best decision. A helping professional will assist you in organizing all of the thoughts you're wrestling with as well as process the additional information you're gathering through your conversations and reading.
Spend quality time with your kids.Regardless of whether you decide to divorce their mother, you and your kids deserve to have a wonderful relationship. Spend time with each of them individually – not just doing fun things, but building the connection between the two of you through every day activities too. Spend time with all of your children together. And spend quality time together as a family. By investing the time in your children, you'll be building memories and strengthening your relationships.

And if you should ultimately decide that divorce is the best answer for you and your family, you'll have already established the habit of spending time with your kids and it will be easier to continue those relationships when you're not living together all the time.
Without question, these nine tactics outline the minimum amount of effort required to make the best decision you can about divorcing the mother of your children. But the truth is you might not have the energy or desire to go through all of this work – not even for your kids.
If this is true for you, then you need to get comfortable with the fact that you've already made your decision to divorce. Your task is to start preparing your family for what's coming and then divorce your kids' mother in as respectful a manner as possible while strengthening the relationship you have with each of your children.
No matter how you look at it, the labor involved in deciding whether or not to divorce is immense. There are so many unknowns about what the future holds regardless of which way you choose to go.
The absolute best thing you can do to help yourself make this decision is to make sure you've gone all in to make your marriage work. That way if you do decide that divorce is the best option you'll be able to look yourself (and your kids) in the eyes and know you've given your all to being the best dad possible even if you did divorce your children's mother.
I'm Dr. Karen Finn, a divorce and personal life coach helping people just like you who are wondering if staying married is the right answer for them. You can join my newsletter list for free weekly advice. And, if you're ready, you can take the first step toward working with me as your personal coach by scheduling a private consultation.
Looking for more help with your marriage? Read more advice in Unhappy Marriage?
This article was originally published at The Good Men Project.