Posts Tagged 'life insurance'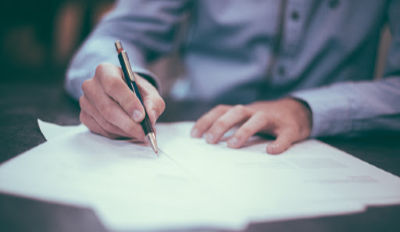 If you don't update them, you won't like what happens.
There are just a ton of legal, financial and medical documents you're expected to keep track of to help protect and provide for you (and your family) in all kinds of different situations. For most of us it is overwhelming to try to understand and manage it all – especially when you're going through the divorce roller coaster of emotions.
Unfortunately, there are lots of people who don't bother with updating or changing any document outside of the divorce decree. That's where the problems start. For example, if you were to forget to update the beneficiary to your IRA, your ex could inherit it.
Because it is so difficult to keep track of all the documents you might have and want to update when you get divorced, here's a list of some of the more common documents you'll want to make sure to update when you get divorced. (You'll also want to review them on a yearly basis too.)
Retirement Plans (e.g., 401K, IRA, pension plan, etc.)* Retirement plans are monies set aside for an individual's retirement. When the individual dies, their beneficiary will receive these monies.
Life Insurance Policy* A life insurance policy can provide for your family after your death and pay for your funeral costs.
Will & Trust* These documents can identify the persons or entities that will receive your property when you die, for you to appoint a guardian for your minor children, appoint those you wish to manage your estate, and revoke or alter a previous will. Remember to update your beneficiaries to reflect your new marital status. You'll probably also want to review the guardians and managers of your estate.**
W-4* This document helps your employer to withhold the correct federal income tax from your pay. With your changed marital status, you might want to adjust your number of dependents to reflect your newly single status.**
Medical Treatment Authorization and Consent Form* This form is important when your children are not with either a parent or legal guardian. Because your children are probably in different care situations than before your divorce, you might want to make sure whomever is watching your children can help your children get appropriate medical care should they need it.**
Medical Power of Attorney* This document designates a person whom you trust to make health care decisions on your behalf should you be unable to make those decisions. You'll probably want to make sure you update who this person is.**
Directive to Physicians and Family or Surrogates* A directive helps you communicate your wishes about medical treatment if you are no longer to make decisions due to illness or incapacity. Most people have their spouse listed as the person to make these decisions. If this is what you've done, you'll probably want to make sure to update who this person is.**
HIPPA Authorizations at each of your doctors* The HIPPA allows you to indicate who besides you may have access to your medical information. We usually complete these forms allowing the doctor's office to leave your healthcare information with our spouse. If you did this, you might want to change this at each of your doctor's offices.**
* The purposes identified in this list are just casual descriptions. For legal descriptions, you'll want to contact the appropriate authority.
** The changes to consider are just suggestions. You'll want to work with the appropriate authority to verify which changes are appropriate for you.
Your Functional Divorce Assignment:
Which of these documents do you have? For each of the documents listed in the table that you've already got, take the time to review and update them.
Which of these documents are you missing? For each of the documents you are missing, look at the purpose of the document and see if you want or need to have it. For each document that you want or need, have the appropriate professional create it for you.
Where are your documents? There are some documents that you'll want to keep handy. You'll want to make sure that the appropriate family members know where your documents are kept. You'll probably also want to make copies of the documents for yourself and family members so everyone who might need them has them.
There are other documents, like the HIPPA Authorizations at each of your doctor's offices, which someone else will keep the originals of so that you'll just have copies. You'll want to keep tabs on these as well so you'll have an easy time updating them next year.
I'm Dr. Karen Finn, a divorce coach and advisor helping people just like you who are dealing with the stress and pain of divorce. You can join my newsletter list for free weekly advice. If you're interested in taking the first step toward working with me, you can schedule an introductory private coaching session.
If you're looking for more help on how to navigate the challenges of your life now, read more articles on Life After Divorce.