Posts Tagged 'relationships'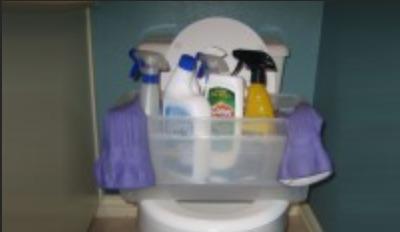 One of the tasks on nearly everyone's to-do list this time of year is spring cleaning. After having our homes closed up for the winter, it's nice to open up the windows and make our homes spick-and-span. I guess it goes along with spring in general since it's when nature is new and fresh again.
As I was thinking about my own spring cleaning, I started to wonder about the possibility of spring cleaning our relationships. (Yes, technically I guess this thought process counts as procrastinating, but I'll leave that discussion, the bucket of cleaning supplies, and the toilet for another time.)
I realized that relationships, just like our homes, need to be refreshed, cleaned up and have all the junk removed from them periodically.
There is plenty of advice on the web for what you need to do to thoroughly spring clean your home, but I'll bet this will be your first list of what to do to spring clean your relationships!
1. Get rid of the junk – lots of people have relationships in which they can't be themselves; they're always acting and pretending to be what the other person wants. These types of relationships are junk because you're not able to be authentically you and they're very draining.
Now when I say get rid of the junk relationships, I don't necessarily mean get rid of the relationship itself. What I mean is that the way the relationship currently exists needs to change. It needs to change in a way that allows you to be completely yourself and allows the other person to be completely themselves too.
2. Air things out – at some time or another, we've all chosen to keep quiet and stew over something that's happened in a relationship. I know it was probably the best answer at the time we made it, but it's not the best answer in the long term. The reason is that these things can cause resentment and undermine a relationship.
Taking great care of relationships means that it's important we take the time to clear the air by addressing what needs to be addressed and/or forgiving what needs to be forgiven so we can breathe easier within each of our relationships.
3. Clean all the surfaces – our best relationships are multi-faceted. They support us in all kinds of ways. We share our lives with each other – the joys, sadnesses, fears and triumphs. We give each other room to dream about how we want our lives to be and we help each other accomplish our dreams. We also have fun together – lots of fun!
It's worth the time to think about each relationship and figure out how each facet within it is working. Are both people feeling supported and sharing the important stuff along with the superficial? When's the last time you just had some fun together?
Although this list only has 3 items on it, completing these tasks will definitely require some work. But let me assure you that the work is DEFINITELY worth it because, as my husband likes to regularly remind me, no one is an island and we all do better when our relationships are working.
Now that I've completed my thoughts on spring cleaning relationships, I guess it's time to give my attention back to the bucket of cleaning supplies and the toilet.
Your Friendly Coaching Assignment:
Pick out a relationship you'd like to spruce up for spring. Each of our relationships can use a periodic renewal. Pick the one you'd like to focus on improving.
Start with the junk. What are the ways you're not being 100% you in the relationship you want to spruce up? Are you suspicious that the other person isn't being 100% themselves? If there is any lack of authenticity within the relationship, you'll probably want to help each other to be 100% authentic or else decide the relationship is not going to be a deep one.
Open the windows of communication. Once you know the relationship is worth keeping and nurturing, you'll want to be sure and air out what needs to be aired. Letting go of past grievances either by talking about them and/or by forgiving them will definitely breathe new life into any relationship.
Get out your white glove and check all the surfaces. Since every relationship is multi-faceted, taking some time to make sure every surface of your relationship is working for both of you is vital to growing and improving it.
Repeat as necessary and enjoy the rest of the year with your renewed relationships.
I'm Dr. Karen Finn, a divorce and personal life coach helping people just like you who are dealing with the stress and pain of divorce. You can join my newsletter list for free weekly advice. And, if you're ready, you can take the first step toward working with me as your personal coach by scheduling a private consultation.
© 2013 Karen Finn. All rights reserved under all copyright conventions.