Posts Tagged 'divorce and marital home'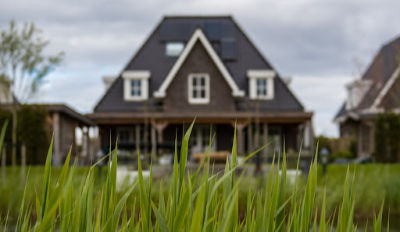 By Mark Watson, Loan Officer, Guardian Mortgage Company, Inc.
www.guardianmortgageonline.com
This is a terrific article. It's jam-packed with information that I am so happy to be able to share! I've added just a few comments in square brackets [].
If you are going through a divorce, you are probably exhausted by all the details and decisions that have to be made as the two of you separate. Even in the most amicable situations it can be very emotional. [Remember there are the 5 facets of divorce – social, emotional, legal, financial and functional – that all overlap. So it makes sense that in the midst of making the decisions required to divorce that you would experience a lot of emotions.]
There is usually a lot of discussion about the house as it usually represents the family's largest asset. [Dealing with an asset would be an example of the financial facet of divorce. When dealing with the financial facet of divorce it's best to remain primarily in a business mindset instead of an emotional one because you'll be better able to make decisions you can live with for the long haul.]
While divorce is a tough process, resolving the mortgage doesn't have to be. According to Mark Watson, Vice President of Guardian Mortgage Company in Plano, Texas, there are three things homeowners can do to make it easier on themselves:
Make realistic decisions.
Understand your loan options.
Seek help.
Make Realistic Decisions.
In many divorces, the home is refinanced in the name of one of the spouses and any profit or losses are negotiated between the couple. Sometimes the home is sold, and sometimes there is a long-term agreement in place about the home. Occasionally, a house with no mortgage is given to one spouse as part of the divorce settlement.
"It makes no difference to the mortgage company whether or not the name changes on the mortgage," notes Watson. "However, the spouse no longer living in the home usually does not want to be responsible for it. Plus, they may want some cash out of it."
If your house is paid off, a quit claim deed can be an easy solution to home ownership in a divorce settlement and make your life after divorce easier.
If there is no mortgage on the home, and one spouse plans to keep it as part of the settlement, the process is simple. "The attorney prepares a quit-claim deed and records it as part of the divorce," says Watson. "The home belongs to just one spouse from that point forward."
Most homes have a mortgage, though. There are a number of questions that must be answered in order to pick the right process for your situation, but the most important is "which spouse can afford to keep the home after the divorce?" It is often the most difficult as there is often a lot of emotional attachment towards the house that may not have anything to do with the financial realities of the situation. [The best way to answer these questions is from a business-minded perspective. The "businesses" to be considered are the financial business of each spouse post-divorce as well as the business of raising happy, healthy children. In other words, you need to keep in mind what your life after divorce will really be like if you choose to keep the house.]
The spouse with primary custody of the children will often want to keep the home to provide a stable environment and to stay near school and friends.
"I often see couples where the wife isn't working and hasn't worked in years," says Bruce Rayburn of The Rayburn Group of Ebby Halliday Realtors based in Plano, Texas. "This makes it very hard to qualify for a refinance. Even if both spouses were working at the time of the divorce, it doesn't mean either spouse can afford the mortgage with only one salary."
"Even getting child support is often not enough," Rayburn adds.
Besides the amount of income required to qualify for a refinance, the source of the income makes a difference. "For conforming loans ($417,000 or less in most areas of Texas), alimony and child support cannot count towards qualifying income until there have been at least three months of steady payments. In addition, the paying spouse must be required by law to pay for at least three years after the closing date of the sale," notes Watson.
"For FHA Loans, the requirement is six months of payment. Furthermore, if the amount of alimony or child support is greater than 30% of the borrower's income, then a full year's worth of reliable payments is required."
[Regardless of where you live you need to know a lot about what the legalities and implications of keeping the house are as you make decisions that will impact your post-divorce lifestyle and residence.]
Understand Your Loan Options.
Many couples believe that they have to sell or refinance the home in order to finalize the divorce, which is not always the case. Sometimes sale or refinance of the home is delayed for months to years.
According to attorney Penny Phillips of Plano, Texas, many families with children want to keep the family home for them until they are older and/or in college. "In this case, one spouse will sometimes agree to wait to get the equity out of the house until after the children have left," says Phillips.
In Texas, a lien can be placed on the house – called an Owelty Lien Agreement – such that one spouse will own the house, but the other will still retain rights to equity that was present in the house at the time of the divorce. This gives the first spouse the right to make improvements and to own the home, but the second spouse will get his or her share of the equity later when the kids are grown or the market improves or whatever reason the couple has chosen to wait.
"It is a win-win because the owner-spouse gets the benefit of all improvements and equity growth in the meantime, but the other spouse still gets the benefit of all the years of contributing to the equity when they were married," adds Phillips.
"Since the home is not sold or refinanced, there is no need for the remaining spouse to get qualified for a new mortgage until the cash-out time. They just need to keep making timely payments. This is a good solution for situations where the divorce is fairly amicable and the spouses can work together for this common goal. I always advise that they tell the mortgage company about the divorce, however, as both partners need to continue to get notices about the loan," says Phillips.
[Keep in mind that just because a divorce starts out amicably doesn't mean it will stay that way. So making sure that both spouses continue to get notices about the loan is a smart decision. After all, keeping life after divorce amicable between exes requires regular, respectful communication, but tempers can still flare despite the best efforts.]
"We generally see Owelty Liens when a couple is in the process of refinancing the home," notes Watson. "You don't need to wait a specific amount of time to use it, and it has the added benefit of letting you do a "special purpose" refinance and go up to 95% of the appraised value of the home. This provides more equity at the end of the process.
"Current "cash-out" guidelines for refinancing in Texas allow for financing up to 80% of the loan value. A special purpose refinance allows you to get an extra 15% out of the home, which is then shared between the couple as per the terms of their divorce. I always talk to my clients about Owelty Liens because it can make a big difference if one partner is trying to buy another home, for example. Also, if the other partner finds out after the fact that they could have gotten more cash out of the refinance and didn't, it can cause more unhappiness all around."
Seek Help.
Dividing up the marriage assets is emotional and financially risky if you are not sure what you are doing. Early in the divorce, both spouses should consult their mortgage provider, realtor and CPA as well as an attorney in order to review their options and the financial and tax consequences of certain decisions. These objective outsiders will help you navigate your particular situation and direct you to other resources. In addition, they can act as a go-between if the divorce is contentious.
[One other divorce professional you may want to contact when dealing with the financial questions of divorce is a Certified Divorce Financial Analyst. These professionals are trained in how to help couples develop different scenarios for an equitable division of their assets and debts so they'll each have a better picture of what their financial life after divorce will be like.]
"It is a false economy to do a divorce yourself. I've seen couples ruin their credit by doing it wrong. In one case, so many mistakes were made; one partner almost went to jail. It's not worth it," said Phillips. "Plus the experts can tell you about Owelty Liens and other ways to get the best out of a bad situation."
"Lack of communication makes the divorce harder," says Rayburn. "I often will work with both spouses in a divorce to help sell the old home, refinance and/or find a new, less expensive home if that is their post-divorce reality. I've even helped people through multiple relationships over the years because I was able to facilitate communications between the parties."
"I often give my clients a list of good appraisers to call on," says Watson. "Even if they don't plan to sell or refinance right away, they need an appraisal in order to fairly determine the value of the home for the divorce settlement. I can then take that appraisal and show them how much equity is in the house so they can have more meaningful discussions."
As with most issues related to divorce, there is no single best way to handle your mortgage. Divorcing couples must take a long look at their finances, and make realistic decisions based on a thorough understanding of their options.
Have more questions about how to handle your mortgage through divorce? Contact an experienced loan officer like Mark Watson at Guardian Mortgage Company today about your specific situation. Guardian Mortgage Company has been serving North Texas since 1965. Mark Watson (214) 473-7954.
Your Life After Divorce Assignment:
If you're at the point of trying to decide what to do with the marital home, focus on the business decision you need to make. Despite how much you are attached to your home, the fact is it's just a thing, a place. Spending your energy deciding how to best deal with this marital asset instead of what it represents will help you come to the best decision for you – the decision that you'll be most comfortable with financially and emotionally in the long haul.
If it's difficult for you to separate the business aspect of this decision from the emotional one, give me a call at 817-993-0561 so we can schedule a Complimentary Consultation and together we'll figure out a way for you to have an easier time making the decisions you need to make as part of your divorce and make your life after divorce as good as it can be.
You don't have to go through this alone. I'm Dr. Karen Finn, a divorce coach and advisor. I understand what you're going through because I've been through it too. I've been helping people just like you who are dealing with all the stress and pain of divorce since 2007. You can join my anonymous newsletter list for free weekly advice or email me directly for a free consultation at Karen@functionaldivorce.com.
Are you looking for more tips about setting yourself up for your best possible post-divorce life? You can find more great information at Life After Divorce.