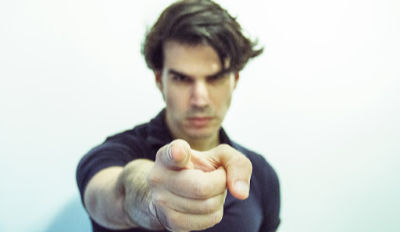 Your partner isn't the problem, sweetheart … YOU are.
A marriage takes work — lots of it — and from each spouse. And the rewards for your effort are: happiness, contentment, peace, and, of course, loving and feeling loved.
But, what happens when you begin to question whether the hard work is worth it? What happens when the bad times significantly outweigh the good (and have for a long time)? The rewards suddenly seem more like a pipe dream than a reality.
What usually happens once someone reaches this point is … they blame their spouse.
They blame their spouse for being a sorry, excuse for a mate and they fuel their resentment of their spouse with fantasies about divorce.
But, whoa … wait a minute. Let's back this divorce train up for just a moment. True, being married takes work, but it's nothing compared to the effort and work that divorce requires. Getting and then being divorced is at least ten times more frustrating and infuriating than the common annoyances of marriage. Once the marriage ends, you and your spouse become straight up adversaries, who must now come to some kind of agreement about: child custody, parenting, finances, and possessions. And there's nothing easy about that.
Also, you don't just get divorced and then the hard part's over. Once the legal divorce is "final," you then begin living into the terms of your divorce. Your life remains firmly tethered to this other person (through children and finances) for years and years and years to come.
So before you decide your mate is the problem and convince yourself that your partner and your marriage are disposable, maybe you should pause first and ask yourself if it's possible that YOU are the one with the lousy attitude in your marriage. Maybe YOU are the lousy spouse. Not sure if you are? Here are five harsh but honest ways to tell:
1. You keep a running log of every mistake
You might even throw temper tantrums or pity parties every time your partner doesn't bend to your will in an effort to make them "behave" better. Either way, if they misstep, you're right there to point it out to them.
And doing this makes your partner feel extremely belittled, badgered and miserable. They wish you'd disappear when you behave like that, and the longer it goes on, the less they even want to try to please you (or put up with your self-centered crap).
2. You pack your schedule full, leaving zero time for your partner
Yes, life is busy … and your dreams, desires, and responsibilities are important. However, in marriage, the health of "the relationship" is just as important as your individual wants or concerns. Ignoring your partner or telling them to "get out of your way" so you can "get things done" fuels resentment, driving a deeper wedge between you and your spouse. After all, no one wants a partner who continuously pushes them away.
3. The sound of their voice (or chewing, or breathing) grates your nerves
You cringe when they open their mouth, because you just know they're going to say or do something you find annoying. You pretend you can't hear them, walk away, or do just about anything to avoid them.
But here's the thing, when your spouse (the person who promised to love and accept you the most) acts as if you merely breathing is a disgusting affront to them, you feel tortured and humiliated. Why would anyone want to open their hearts to someone who so clearly despises them? Doing this is just mean. And if it keeps up, your relationship won't last long.
4. You insist they "never change" (when actually, they have)
You're so busy assuming your partner is exactly the same person, you haven't actually talked with them about "them" in forever. All you talk about is you and what you want. They feel diminished and unimportant to you. They constantly wonder whether trying to make the marriage work is even worth it — your selfishness drowns out any effort they make in favor of the "relationship."
5. You begrudge every minute they spend away from you
In your head, marriage means you "own" your spouse. As such your spouse "owes" you their undivided attention, unless they're doing something you approve of or gave them permission to do. Nobody wants someone controlling them this way — that's slavery, not marriage. Your partner having a life of their own is not betraying you. You trying to micro-manage their existence, however, IS a betrayal to them.
So how did you fair? Are you a lousy spouse?
The truth is … we're all lousy spouses … at times. This doesn't mean all is lost. But it does mean it's time you take accountability for the part YOU play in poisoning the marriage you claim you're so oppressed by. Maybe skip running to the lawyer's office, and head to a relationship therapist's office instead. Maybe work on changing yourself before you throw your partner and your marriage away.
If you wish to improve your role in your marriage, but don't know how, there's only one thing you can do — ask for help! Grab a book on making marriage work. Read more articles about how to have meaningful conversations with your spouse. Talk with a marriage counselor, religious leader, a happily married couple, or coach to get the support you, your mate and your marriage deserve.
The work you put in will pay off. You'll either be on your way to having a flourishing marriage or you'll have healthy clarity about what your next steps are.
I'm Dr. Karen Finn, a divorce and personal life coach helping people just like you who are dealing with the stress and pain of divorce. You can join my newsletter list for free weekly advice. And, if you're ready, you can take the first step toward working with me as your personal coach by scheduling a private consultation.
This article originally appeared on YourTango.
The article "Why marriage can be good for your health" doesn't even begin to tell the whole story.
TimesOnline recently published an article "Why marriage can be good for your health". After reading the article, I believe the conclusions they reach and the research they cite may not tell the whole story.
The article looked at a 2006 study that found married people tend to have longer lives than people who are widowed, divorced/separated or have never been married. What's most interesting to me about this statement is that there is also research that disputes this fact for women.
In 2010, the Max Planck Institute for Demographic Research released a press release about a study they did which explicitly states "The downside of marriage for women: the greater a wife's age gap from her husband, the lower her life expectancy."
Safety is another reason the TimesOnline gives for marriage being good for your health. I agree that being in a committed, monogamous relationship will decrease your chances of contracting a disease through intimate encounters, but there are plenty of people I work with who believed they were in a committed, monogamous relationship who find out their spouse has cheated on them. Marriage in and of itself doesn't guarantee a decreased chance of contracting a disease through intimate encounters.
Another aspect of the safety the article claims marriage provides is based on research by the United States Justice Department. It turns out that married people are less likely to be victims of violent crime than single people. This statement brings up a couple of questions for me. What is the age-range of individuals looked at? How do mental health and financial status play into this data? It just seems incomplete. Finally, there's a subtle suggestion that people who are married don't go out as much as people who are single. Really? This suggestion reminds me of the data that came out in the 80's that stated most serious car accidents occur within 5 miles of home. The reason for that is that most of us do most of our driving within a 5 mile radius of our home. If you don't go out, you don't interact with society. If you don't interact with society then there's less chance of you becoming a victim of a crime. Are you willing to stay at home all the time instead of going out for a great meal, going dancing, or even out to an art opening? I'm not and I'm married!
The last piece of this article that really frustrates me is the statement that marriage "improves mental health". Just being married cannot improve your mental health. How many people do you know that are miserable in their marriage? How many people have you heard of who have been abused by their spouse? Do you really believe that they have great mental health? Yeah, me neither.
This article really misses a two key points. Frist, Marriage can only improve your health if it's a healthy marriage. A healthy marriage doesn't just happen when you say "I do". A good marriage takes commitment that is renewed every day by both spouses. Second, despite the implications in the article being single and/or divorced doesn't condemn you to a either a less healthy or shorter life. Life is what you choose to make of it. If you choose to live well, you will.
I'm Dr. Karen Finn, a divorce and personal life coach helping people just like you who are contemplating divorce. Should you stay, or should you go is a powerful question and I'm here to help you make a smart decision that will lead to your greatest happiness… whether you stay OR go. You can join my newsletter list for free weekly advice. And, if you're ready, you can take the first step toward working with me as your personal coach by scheduling a private consultation.
To heal from divorce, you must learn to trust again.

Divorce is the result of a betrayal of a trust. A trust we place in another to love, support and care about us. It's also a trust we encourage our partner to place in us – to trust us to love them, to support them and to care about them. Trust of this magnitude is amazing when you really think about it. It's an wondrous thing when two people decide to blend their lives and live together in partnership. And when a trust like that is broken, it can be a terrible, ugly thing which causes many people to not want to trust anyone else for any reason.
"When you trust someone to be who you want them to be instead of who they are, you get hurt."

Karen Finn
I know it was true in my case, and I suspect it is true in yours also. When I got divorced I realized I had trusted my ex-husband to be someone I wanted him to be instead of who he was. Because he didn't meet my expectations I got hurt. I got hurt a lot because I had deceived myself for years by expecting him to be who I trusted him to be and not who he was.
"…if you don't feel like you can trust anybody to talk to anybody, you feel like you're really alone."

Fiona Apple
With all my mis-spent trust in my marriage, I wasn't sure if I could trust anyone as I started on my divorce journey. I was suspicious of just about everyone and as a result, I felt really lonely. And the more lonely I felt, the more depressed and fearful I became.
"You must trust and believe in people or life becomes impossible."

Anton Chekhov
One of the things I did as I was building my trust in myself again was I reached out and asked for help. When I moved into a new home during the course of my divorce, the previous owner mentioned that the neighbors across the street wanted to meet me when I was ready.
"We're never so vulnerable than when we trust someone – but paradoxiacally, if we cannot trust, neither can we find love or joy."

Frank Crane
One day, shortly after I was mostly settled in my new home, I screwed up my courage and walked across the street to meet the neighbors. It was scary walking across the street. But I did it. And you know, the rewards have been immeasurable.
The family who lived there was generous and kind and recognized how scared I was to be facing my new life on my own. They turned out to be my family away from my family. I felt loved and cared for in a way that I hadn't since I lived at home as a kid. (I've lived across the country from my family since I was 18 years old)
"Do not trust all men, but trust men of worth; the former course is silly, the latter a mark of prudence."

Democritus
Screwing up my courage and walking across the street that spring morning was a real turning point for me in my divorce journey. It was the first time in a long time that I had trusted myself to be able to discern if it was OK for me to trust someone.
That's exactly what I want for you. I want you to know that it's OK to trust yourself, that it's OK to trust yourself to meet new people and that you'll know if they're worthy of your trust. And if they are worthy of your trust you just might find another family to support and love you like I did.
Divorce for most of us is scary and learning to trust yourself so you can trust others can take some time, but when you start down that road of trust the rewards of joy and love can be yours again.
Your Functional Divorce Assignment:
Reread the 5 quotes in today's article. I used the quotes to tell a story of how I learned to trust again as I was going through my divorce. How do these quotes apply to you?
What actions do these quotes inspire you to take? You might need to screw up your courage like I did before you take action. Or, the action you choose to take might come easily to you. Whatever you're inspired to do to test your ability to trust, trust yourself enough to know when the right time is to do it.
Do it and evaluate the results. The thing about any new experience is that you need to evaluate the results. Check in with yourself after you take action and see how you feel about it. You may be pleased and feel empowered to trust more. You may be displeased and choose to choose differently next time. You might feel something in between these two extremes. The key here is to be truthful with yourself and adjust so you can continue to build your trust in yourself and in others.
I'm Dr. Karen Finn, a divorce coach and advisor helping people just like you who are dealing with the stress and pain of divorce. You can join my newsletter list for free weekly advice. And if you're interested in taking the first step toward working with me, you can schedule an introductory private coaching session.
© 2013 Karen Finn. All rights reserved under all copyright conventions.