Posts Tagged 'positive thinking'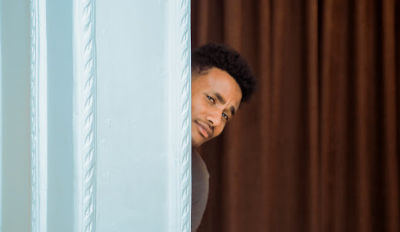 Divorce is one of those life events that can cause you to question EVERYTHING.
At least that's what happened for me. Somehow my change of marital status caused me to wonder if anything about my life was what I thought it was– was any of it real? How could I know what was real and what wasn't? After all, I had thought I'd be married to my ex-husband for the rest of my life and that wasn't true so what really was true about the rest of my life? I felt hopelessly lost.
Slowly, though, I began to understand that the only path out of a life of being hopelessly lost was to begin to trust myself again. I needed to believe that I could trust myself and that I was the only one who would know what was and wasn't true for me. Knowing which path to take is different from actually walking down the path. The walk, for me, took a while because I was walking blind-folded.
When I look back at that time in my life, I know that it took me longer to walk the path to self-trust than it might have. I didn't know where the path was headed or what was required of me to successfully walk it. But I know it now. I know the path now because of my own journey and because of the journeys I've been honored to watch my clients make too.
I'm going to share my knowledge with you so you will be able to walk your own path back to self-trust without a blindfold.
Before I start with the how-to's of building self-trust, it's important to define the term. Self-trust is the ability to make decisions, to know that your emotions and feelings are real, and to take care of yourself. It's a fairly lengthy definition, isn't it? Basically, self-trust involves trusting yourself on EVERY level – cognitively, emotionally, logically, intuitively and physically.
I'll bet you're wondering, "With a concept this big, where do I start?" You start with a decision to build your self-trust and then you roll up your sleeves and begin to work. It won't be (at least not for most of us) a magical process that once you make the decision you'll automatically have a wonderful sense of self-trust, but with consistent work you'll definitely make significant progress in a fairly short period of time.
Here are 6 steps you can use to build your self-trust:
1. Eliminate victim mentality. Victim mentality is living in the belief that things happen to you and you have zero impact, influence or control over what happens to you. I'm not suggesting that you can't be a victim. What I'm suggesting is that you don't want to let that be your entire story. Yes, bad things do happen and you can choose how you move on from those things.
As an example, suppose you are divorcing because your spouse cheated on you. You can either live the rest of your life feeling like a victim of your spouse's choice or you can come to accept that your spouse's choice was hurtful and you can still move on with the rest of your life regardless of what your spouse has done.
2. Eliminate negative thoughts about yourself. Regardless of whether or not you're going through divorce, most of us have negative self-talk – you know, those voices in your head that are constantly criticizing you in some way. A friend of mine calls them the shitty committee. Learning to quiet those voices and recognize them for what they are is an incredibly powerful skill.
Most of the time, those hyper-critical voices are that way because they're trying to protect you from something. For years, my negative self-talk revolved around not liking myself. It took a while for me understand what was behind those messages, but I finally realized that it was because I wasn't trusting myself to know what was best for me. I would often defer what I wanted to what my ex-husband wanted. Once I came to this realization, it was much easier for me to quiet those negative thoughts and pay more attention to what I wanted.
3. Recognize your strengths and successes. This has a lot to do with self-esteem and knowing that you are capable because you have innate strengths and because you've been successful in the past.
I've written a previous blog post about how to do this and instead of re-writing it here, I'll just direct you to that post: https://drkarenfinn.com/divorce-blog/dealing-with-grief/118-a-quick-and-simple-way-to-dump-divorce-depression
4. Become aware of what you're thinking and feeling. Now that you've eliminated a bunch of the stinking thinking in the first 3 steps, you're ready to start being pro-active with building your self-trust and it all begins with paying attention to what you're thinking and feeling (both physically and emotionally).
There are a couple of different ways to do this. The first is to ask yourself at least 3 times during each day just what you're thinking and feeling at that particular moment. Once you have that answer you can then decide what if anything you want to do to improve how you're thinking and feeling. The second way is to journal about your thoughts and feelings. Most people are more aware of their thoughts than their feelings. If this is you, you might want to journal by using the phrase "I feel…" as many times as you need to so you can get everything out.
5. Keep your word to yourself. Believe it or not we all make promises to ourselves every day: "I won't eat any more sweets", "I will start a daily exercise routine today", "As soon as I finish this report, I'll take a break to clear my head before starting my next task." The thing is that despite our promises we wind up eating a fresh-baked cookie a friend brought over to share, we skip a day of exercise and soon we've stopped exercising all together, and we skip taking a break because we talk ourselves into believing we didn't really need it after all. Breaking promises we make to ourselves, sets us up to have a poor level of self-trust.
I used to be especially bad at keeping my promises to myself involving rest, relaxation and fun. I'd usually feel guilty if I wasn't working and pushing myself all the time and yet I'd hate myself for not taking care of me. It was really a vicious cycle. What I discovered by allowing myself to keep my word to myself about rest, relaxation and fun was that I had LOTS more energy for getting my work and workouts done.
6. Learn from your mistakes. This is the biggie when it comes to divorce. It takes two for a marriage to not work. (I know that might be an offensive statement to some, but it's what I believe and if you'd like to discuss it with me, please do! You can reach me at karen@drkarenfinn.com.) Learning what your part in the divorce was will go a long way toward helping you build your sense of self-trust because you'll know that you can take care of yourself.
It took me a while to recognize that I played an active part in my divorce, that I wasn't a victim, and that there were things I could learn from my failed marriage.
Yes, this is really the master's level of self-trust. Being able to realize that you are going to make mistakes at times and still trust yourself because you are willing to learn from your mistakes will allow you to take appropriate risks and live a wonderful life.
Once you've conquered these 6 steps, you'll be well on your way to trusting yourself again. So, the next time something happens in your life that changes everything, your ability to trust yourself will help prevent you from feeling hopelessly lost again. Even if you do wind up questioning EVERYTHING, you'll be able to trust your answers because you've learned to trust yourself.
Your Functional Divorce Assignment:
Make the decision that you can trust yourself even if you aren't sure you do right now. Making the decision is always the first step in making a change. Learning to trust yourself is critical to having a wonderful life. Emerson said "Self-trust is the first secret to success" and I agree completely!
Take the checklist above one step at a time. Start at the top of the list and work your way through each step. Some may be easier for you to do than others and you may want to re-do some steps along the way, but if you work through them in this order it will be easier for you to master each of them.
Know your limits. This is one of those extra bonus things about trusting yourself. As you trust yourself more you'll know exactly when you need to ask for help and what kind of help you need.
I'm Dr. Karen Finn, a divorce and personal life coach helping people just like you who are dealing with the stress and pain of divorce. You can join my newsletter list for free weekly advice or schedule a confidential consultation with me.
If you're looking for more help recovering from your divorce, read more articles in Healing After Divorce.