Posts Tagged 'dependence'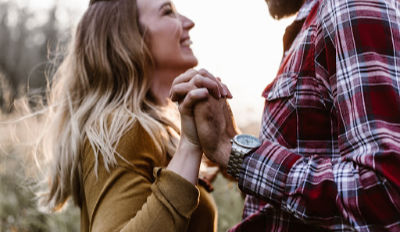 Divorce can shake a person's ability to trust someone else to the core. Yet, in order for any relationship to thrive, trust is a necessity. In this Part 2 of The 8 Keys to Trust in a Post-Divorce Relationship, I'll share keys 5-8 on what characteristics must be present for a deep and abiding trust in another person to exist.
As a quick reminder, the first 4 keys were clarity, compassion, character and competency. (You can read the detailed discussion about these keys here.)
The last 4 keys to trust in a post-divorce relationship are
5. Contribution – What's important about contribution in a relationship is recognizing how you each contribute to the richness of each other's lives. The contribution should be overall positive, yet not necessarily positive all the time. The rough patches are where growth can occur and the opportunity for growth is where you can begin to evaluate the presence of the next key – commitment.
6. Commitment – Commitment is more than just a declaration. The kind of commitment that makes relationships work is action-based. It takes action to display commitment – a willingness on both parts to roll-up your sleeves and do what needs to be done to maintain the relationship if that's what's in each of your best interests.
7. Connection – Connection is all about relating to each other. It requires being able to communicate clearly with each other. It's also the unspoken communication that develops that sense about what each other is thinking or needing.
8. Consistency – Dictionary.com gives some great definitions of consistency that are all necessary to developing and maintaining trust in a relationship. Consistency is about agreement, harmony, or compatibility. It also refers to the condition of cohering or holding together and retaining form. All of these are necessary to build trust in a relationship. There must be a consistent agreement to maintain the relationship and there needs to be compatibility and harmony so it can thrive in an environment of trust.
When you take a look at this week's keys and the ones from last week, there's quite a bit that goes into building trust in a relationship. Isn't there?
It's funny how sometimes looking ahead at what you want in a relationship can sometimes cause us to do a little examination of past relationships and look at them in a different way. If this has happened for you, then you've got a really great indication of what you might need to make sure happens in your next relationship to be able to again place your trust in a relationship.
Your Functional Divorce Assignment:
Get clear about what you want in your post-divorce relationships. Yes, this is the same first step as in last week's Your Functional Divorce Assignment, but my guess is that after learning what the rest of the keys are you might want to adjust your idea of what you want in your post-divorce relationships just a bit.
How might you determine if you and the other person are contributing positively to each other? What positive contributions would you like the other person to make to your life? What contributions are they willing to make to your life? How do these answers match?
What are the contributions they want you to make to their life? What positive contributions are you willing to make in their life? How do these answers match?
It's important that the answers be fairly similar in order for the contribution key to be present in your post-divorce relationship.
What kind of consistency is present in your relationship? Do you both have the same vision and interpretation of the relationship? Without the same vision, there's no way there can be consistency within the relationship. That's why I believe it's important to check in periodically and make sure you're both in the same relationship.
I'm Dr. Karen Finn, a divorce coach and advisor helping people just like you who are dealing with the stress and pain of divorce. You can join my newsletter list for free weekly advice. If you're ready to take the first step toward working with me as your personal coach, you can schedule an introductory private coaching session.
© 2013 Karen Finn. All rights reserved under all copyright conventions.
Life changes a lot when you separate and divorce. Things that used to be a regular part of life just aren't anymore. And when things change in unexpected ways, we can get scared, frustrated and angry.
When clients begin working with me, they're usually experiencing some combination of fear, frustration and anger. One of the first things we do is dive into what's behind or at the root of these emotions. What we usually discover on our deep dive are limits that have been disregarded in some way. The limits could be behaviors, expectations, thoughts, beliefs or even habits.
The identification of your personal limits is a critical part of restructuring your life during and after divorce.
Some people are quite adept at identifying their limits – what they can and can't do, what they think and why they think it, what they expect and why they expect it and what their habits of thought, belief, response and action are.
Others aren't as aware of their limits. They aren't quite sure of what their limits are or even if they want to know because they do and think what others tell them to.
And then there are people everywhere in between these two extremes.
Regardless of your starting point, I think knowing and understanding your limits is one of the key pieces to successfully navigating divorce. Your limits can help you understand what's truly important to you as you negotiate your settlement. And knowing your limits will even allow you to ask for help and support when you need it.
Your limits will be tested, pushed, prodded, and beat against before, during, and after your separation and divorce. Who's doing all this "exploring"? EVERYONE. Or at least it will probably feel that way. However, the chief "explorers" are usually your soon-to-be-ex and you. I'll bet you already get how your soon-to-be-ex figures in here, but did you expect to also be one the chief "explorers"? The thing is that by virtue of going through the divorce process you're asking yourself to completely redefine what your life is like. And anytime you or anyone else changes it's a matter of testing and exploring previous limits.
I know all the testing, pushing, prodding, and beating against limits is at a minimum uncomfortable and at worst excruciating. However, the payoff is either an adjustment or a reaffirming of your limits along with, ideally, improved ways of communicating them to yourself and others. With your new limits you're most often better off than you were with your old limits. Kinda like that old adage – what doesn't kill me makes me stronger.
Great, right? There's going to be some struggle and then things will be better. UGH! There's nothing there about how to make the transition from married to divorce easier! And here's where I'm going to tell you that the way to make things easier is to be flexible and loving while you're exploring your limits so you can adjust and evaluate them by choice instead of by force.
By allowing yourself to be flexible as you explore your limits you'll be much more able to understand and choose what to do with your limits and your life as you move forward through your divorce process. The flexibility will also allow you to negotiate from a more confident spot because you'll be able to more easily see the options available to you. Developing the ability to be flexible will help you now as you're navigating your divorce, but throughout your life.
Your Functional Divorce Assignment:
Know your limits. As you're proceeding through your separation and divorce process take note of your limits. You'll probably become aware of them most easily when you're experiencing a strong emotion.
Explore your limits. Once you've identified a limit, ask yourself questions like "How did I develop this limit?", "What's the benefit of this limit?", and "What might adjusting this limit be like?" Take note of what you discover about yourself.
Adjust your limits. Exploring limits almost always gives you new ideas of how to be, act, and think. Take advantage of your discoveries and adjust your limits in ways that make you feel wonderful!
As always, I'm here if you need some help in increasing your flexibility. You can reach my by email at karen@functionaldivorce.com and by phone at 817-993-0561.
I'm Dr. Karen Finn, a divorce coach and advisor helping people just like you who are dealing with the stress and pain of divorce. You can join my newsletter list for free weekly advice. And if you're interested in taking the first step toward working with me, you can schedule an introductory private coaching session.
© 2012 Karen Finn. All rights reserved under all copyright conventions.
I love the Beatles. OK, it's more accurate to say I love the Beatles album 1. I consider it "happy music" and often put it on when I've got a long drive ahead of me or when I just need a pick-me-up. One of the songs on the album is Help!
If you're not familiar with the lyrics of the song, you can find them on Metro Lyric's website. For me, the idea behind the song is that we learn how to be independent when we're young and as we grow and mature we yearn and search for interdependence.
When we're born we're completely dependent on others and essentially helpless. All we can do is cry and scream when we want help. Then, when we turn about 2 we begin to discover our own power and the magic word "NO!". That's when our natural desire is to begin to find out who we are independent of our parents. Most of us tend to begin intently striving for our independence during our teen years. Some of us wait until we get to college to become independent and some, like me, don't realize our full independence until much later. Regardless of when you establish your independence, it's an important milestone and the ability to exclaim "I did it!" is one of the headiest moments anyone can experience.
And yet, after we've achieved independence and it's glories, there's often the desire for connection with others. I'm not talking about a temporary connection, but a deep meaningful connection that helps us to know that we're not alone in our life. This is the search for interdependence and where we recognize our true power – our ability to be part of something so much larger than us that nurtures and supports us and everyone else in ways beyond what we could ever do on our own.
The key to this power, our true power, is the ability to be vulnerable and ask for help when we need it. This is different that asking for help simply because you want something that you're unwilling to do for yourself. This is about asking for help because you've been working toward and straining for something and you realize you're just not able to do it all on your own, you need the help of someone to take the next step, to ease some of the burden, to be connected with all that you can be and all that is. This is the type of asking that true interdependence demands. I believe this is true maturity. I also believe this interdependence creates a joy and meaning in life that is beyond compare.
My thought is that we all live lives that are combination of dependent and interdependent thoughts, habits, beliefs and actions. I think of the path between dependent, independent and interdependent being a continuum. Probably the easiest way to visualize it is as a line with dependent at the far left, independent someplace in the middle and interdependent is at the far right.
I've yet to meet someone who is living completely interdependent life. Of course, there are lots of people I've not met yet.
Your Friendly Coaching Assignment:
Where are you on the continuum of living a dependent, an independent and an interdependent life? What I find is that the answer depends on which part of my life I'm thinking about. You may find the same is true for your too. If that's the case, answer the question for each part of your life. I'm sure your answer(s) will be interesting.
Are there parts of your life that you'd like to move more toward independent or interdependent? This can be a tough question to answer for a lot of people because we aren't really sure if such a change is possible or we might be plain afraid of the consequences of such a change.
If you answered "no" to the last question, good for you! Chances are great that you're comfortable with your life exactly as it is now. That's a wonderful thing!
If you answered "yes" to the last question, get ready for an adventure! Figuring out how to realize more of your own power is the greatest adventure anyone can take. You'll discover so much about yourself that you'll be in awe of whom you truly are and who those around you are. That's been true for me anyway. I also know that it's not always the easiest adventure to undertake and yet every time I move from dependence to independence and then to interdependence I am ALWAYS happy I have.
Happy adventuring!
I'm Dr. Karen Finn, a divorce and personal life coach. I help people just like you who are dealing with the stress and pain of divorce. You can join my newsletter list for free weekly advice.